Datafiles download from the FBR website only contain game results from Division 1-A and 1-AA games. The voter polls and BCS rankings are also included. Additional non-Div 1 conferences and teams are included for your use, but not their games. If you wish to track games other than the Div 1 games, you should always merge downloaded datafiles.
If you merge the datafile, selected conference, team, and game attributes will not be changed, thus allowing you to personalize your data if you wish (see User Options).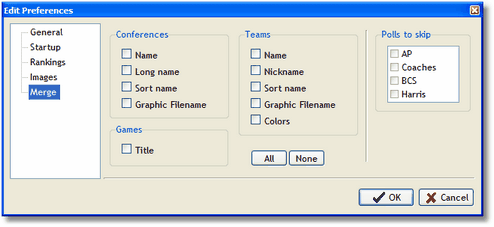 Above is the merge section of User Options.
If you leave the Conferences, Teams, and Games attributes unchecked, any modifications you make to a datafile will not be altered during a merge operation. This allows you to change a nickname, a graphic image, etc. - and still not have to enter your own scores.
If you leave the Polls to skip items unchecked, then the listed polls will be replaced during the merge. If you wish to use one of the predefined polls as one of your own personal polls, i.e., entering your own data, the check that poll and it will not be replaced during the merge.
Note: Because of the dynamics of game times and TV schedules, WSA will not attempt to supply this information in FBR's datafiles. These game attributes have been provided for personal use. If you choose to use times and TV schedules, just be sure to use the Merge option when updating your datafiles from the web site. The merge operation will not alter times and TV schedules that you have entered.