When you click the FBR tab on the Polls Page, there will be a Build FBR button above the poll results grid. Click the button to build the FBR Ranking. The ranking may be constructed using the Rankings Methods currently selected on the Rankings Page or one of your currently saved ranking configurations. Set up the type of FBR rankings you wish to build by clicking the icon next to the Build FBR button.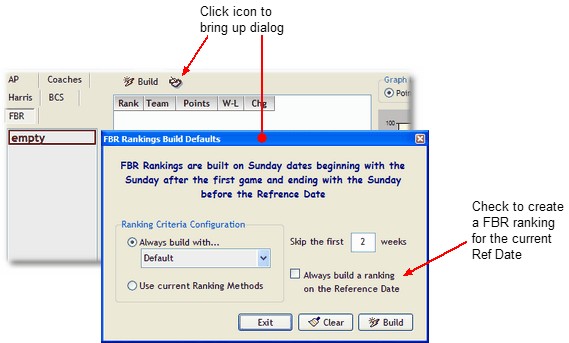 FBR builds a ranking on Sunday dates in which there were games in that date's game week.
If you have selected the FBR Rank to be one of the columns in the Games grid, know that those rank numbers come from this generated FBR Ranking. They are not calculated on-the-fly. So if you put together a FBR Ranking that you like, remember to return to the Polls Page and repopulate the FBR Ranking anytime games have been edited.