Finally available for Android systems.

Football Rankulator 2014 on Google Play Store
This page is a quick start guide to get up and running with the Android version of Football Rankulator. If your question is not answered on this page, check out Football Rankulator on FaceBook (up and running soon), or send an email to appsupport@FootballRankulator.com
Quick Start
How to create your first ranking.
Assign a weight to at least 2 rank methods. A weight does not have to be assigned to every available method.
Go to the "RANK METHODS" tab to see a list of all Rank Methods. To help decide which rank methods to use, select a rank method by tapping on it to see the ranking, and to see which elements are used in the ranking.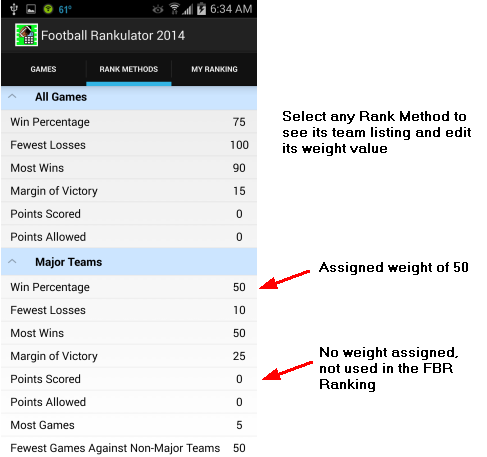 Now you may edit the rank method's parameters. Select a parameter button to bring up an edit dialog.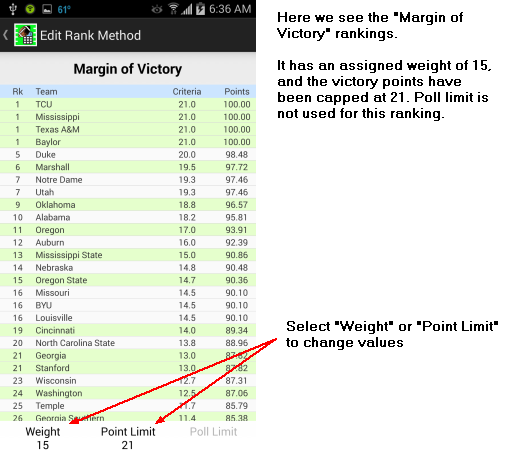 Select the 'plus' and 'minus' buttons to update a parameter's value. Switch parameter types via the buttons in the lower left area of the dialog.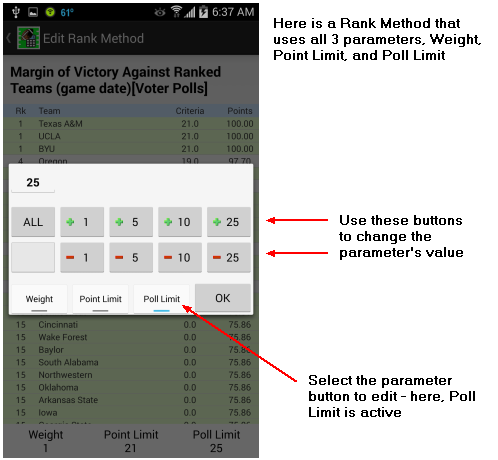 All of your settings will be retained between sessions. When you go to the "MY RANKING" tab, your new ranking will be displayed.
F.A.Q.
1. Just how does this work?
Check out the help for the Windows PC version; the concept is the same. Ranking Calculation online help
2. When are scores updated?
The morning after any FBS or FCS game has been played. The app always checks for new data each time it runs.
3. When are voter polls updated?
Usually Sunday evening, but no later than the next morning.
4. Which teams are the Major teams?
Teams in the ACC, Big Ten, Big 12, Pac-12, SEC, and Notre Dame.
5. How is 'Strength of Schedule' calculated?
Again, check out the help for the Windows PC version. SoS is user configurable in the Windows version; for the app version, all the default settings are used. Strength of Schedule online help
6. I see an error in a game schedule or score, what do I do?
Send an email to data@FootballRankulator.com. Current week schedules are verified mid-week to check for additional games, date changes, etc.
7. Where are team schedules, conference standings, and poll listings?
Barring any major issues with the initial release of the app, some these items may get added before the season is over.
8. Why no landscape views or tablet version?
Still coming up to speed in the Android environment. Had to go with the phone version this year. Many features of the desktop version would work great on an Android tablet; that is definitely a goal.